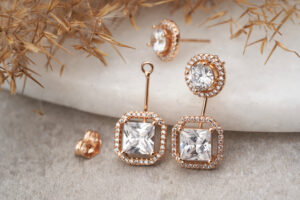 The most well-known and, in fact, the most used technique for mounting diamond rings is the prong setting. A prong setting, in addition to providing excellent protection for the center diamond, may be used in a variety of engagement ring styles and enables an abundance of light to reach the diamond.
A prong setting, often known as a claw setting, functions as a cradle for the lab-grown diamond. The prongs rise directly up from the base even before the stone is placed. These metal rails are cut and polished securely around the diamond after it is aligned into position to effectively secure it.
Despite its popularity, the seemingly straightforward prong configuration requires just as much attention to detail. Prongs should not conceal the diamond's table facet and the stone must sit flat with the prongs. The beauty of a well-made prong setting is that it attractively highlights the diamond. Incorrectly designed prongs can make a stone appear small, and gaps might jeopardize the ring's wearability and safety.
Prong Setting's Benefits
A prong setting has a lot of advantages. In comparison to other settings, they employ less metal. This, paired with the diamond's open structure, permits light to enter the diamond, resulting in a spectacular glitter. Because of its appeal, renowned jewelry designers have created one-of-a-kind prong settings in a wide range of styles.
Prong settings can be modified to raise or lower the diamond depending on your preference. This is a technique that only skilled jewelers have, and it allows for minor personalization. Classic prong settings are simple to clean, allowing you to care for your diamond jewelry at home. For years, they have proven to be an attractive and refined option. Furthermore, prong settings are appropriate for all diamond shapes.
What To Consider When Choosing Prong Settings?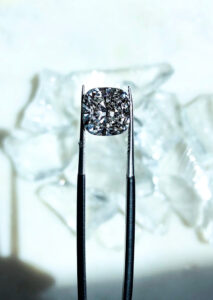 A prong setting is a great option for a diamond ring, but as with any jewelry style, there are a few things to keep in mind to make sure it's right for you or your partner.
A prong with a high prong setting may grab on garments or snag through rubber gloves. This can be remedied by lowering the diamond's position in the setting. Consider the setting's height from a lifestyle standpoint if you have an active lifestyle and want to wear your ring every day.
Certain prong types, especially those that set higher than the stone, can scrape. To avoid accidentally scratching, youngsters, young parents and healthcare workers may choose to take off their rings. This is a rare occurrence, but it is worth considering.