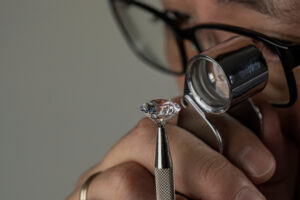 With the increasing popularity of lab-grown diamonds across the globe, diamond manufacturers are trying different diamond cuts on them. People, especially millennials, are now choosing lab-grown diamonds over natural diamonds for their engagement rings. Since the origin is the only difference between both these diamonds, people can buy a lab-grown diamond and make sure that they are getting a conflict-free diamond.
Among the different cuts that are being introduced to lab-grown diamonds, pear cut is slowly becoming a favorite among diamond fanatics. To achieve a cutting style that looks like a teardrop, the pear cut diamond combines aspects of the current round brilliant cut with the marquise cut. A pear shape diamond is a beautiful choice for an engagement ring because of its graceful and tapering form.
History Of Pear Cut Diamonds
The history of the pear-cut diamond dates back to 1458. It was created by Lodewyk Van Berquem, a diamond cutter, during a period when diamonds were beginning to gain favor in commerce. A pear brilliant cut diamond typically contains 56 facets, however, this number can vary based on the facet patterning. Pear shapes appear bigger for their carat weight than round diamonds because of their extended contours.
Ideal Length-To-Width Ratio For Pear Cut Diamonds
A pear cut diamond's length-to-width ratio can alter the general shape and attractiveness of the diamond, and it's mostly a question of personal taste. Since chubbier pears are more attractive to most people, stones with a length-to-width ratio of 1.40-1.50 are preferred. The pear will actually resemble a distorted marquise if the l/w ratio is too high.
Which Color Rating Is Better?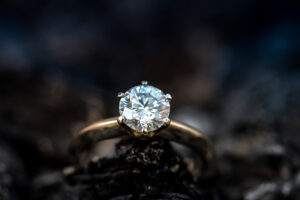 When compared to round cut diamonds, fancy shapes such as the oval, and pear diamonds exhibit more color. The hue is significantly more evident around the diamond's tip due to the cutting style's innate properties. Choose a color grade of G or higher if you are color sensitive and want the diamond to stand up bright after mounting it in a white gold/platinum setting. It's entirely fine to move down to lower color grades like J or K if you're planning to set the diamond in a vintage style or yellow gold setting.
Cost Of Pear Cut Lab-Grown Diamonds
Due to higher output from rough diamond cutting, pear diamonds have a lower price than round cut diamonds, and costs around 15-30 % lower. Pears are therefore a better investment than round cut diamonds if you want to get the most bang for your dollars. Since lab-grown diamonds are cheaper than natural diamonds, the price could go further down.