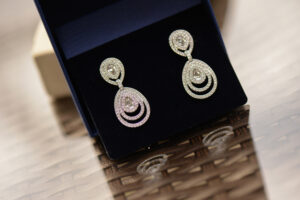 There is a wide variety of ring settings that are created to offer better protection for the stone along with offering a stunning look, and the flush setting is one among them. This setting offers a sleek and sophisticated appearance to your engagement rings with the small diamonds embedded into the band. The flush setting is also commonly used for wedding bands because of its versatility and simple look.
What Is Flush Setting?
The flush setting is also known as gypsy, hammered, shot, or burnished setting. It comes with a simple band that is embedded with gemstones. This setting can offer a minimalist, subtle, and sophisticated look to your ring.
In a flush setting, the stones will be set flush with the ring's metal. Here, the stones are not protruding out of the band, therefore, it can prevent your diamonds from snagging on things. So the flush setting creates a great choice for people with an active lifestyle, as the ring won't get in the way of using their hands.
The diamonds set in a flush setting will be visible only from the top. The sides and bottom of the stone will be completely hidden from sight. In this regard, the flush setting is similar to that of the bezel setting, as it also shows only the top part of the diamond. But in a bezel setting, the stone will be surrounded by a metal strip to form a round lip, and in a flush setting, the gemstones will be set into the metal of the band.
Benefits Of Flush Setting
This setting creates a unisex design for engagement rings and wedding bands.
It can offer better protection for your natural and lab grown diamonds.
This ring setting can be suitable for people who are looking for a minimalistic design for engagement rings.
If you don't like rings that are too flashy, then the flush setting can be a great option for you, as it only creates a subtle glow.
The flush-set ring can be easy and comfortable for you to wear, as it won't snag or catch on to everyday things.
It is easy for you to clean and maintain.
Problems With Flush Setting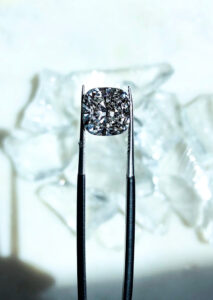 As the diamond is set flush with the band, this setting can reduce the visibility of the stone.
The brilliance and sparkle of this setting are less when compared to many other ring settings, as the chance for the stone to interact with the light is low.
So choose a flush-set ring if you want better protection for the stone and need a minimalistic and sophisticated look.