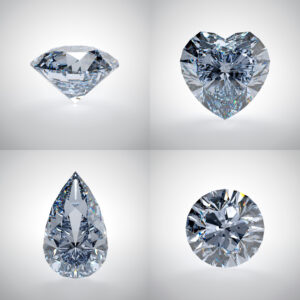 The diamonds made in a laboratory have excellent qualities that are comparable to that of naturally mined diamonds. They have the exact same physical, chemical and optical properties, in addition to having the Mohs hardness of 10, just like natural diamonds.
It is almost impossible to identify the origin of a diamond by just looking at it without any specialized equipment. Lab grown diamonds have the exact thermal and electrical conductivity as naturally mined diamonds. This means they can pass the diamond tester exactly as natural diamonds would. The expertise of a gemologist and custom-made lenses and microscopes may be needed to tell lab made diamonds and natural diamonds apart.
Are Lab Made Diamonds Imitations Of Natural Diamonds?
Definitely not. The diamond market is flooded with different kinds of diamond imitations. Stones like moissanite are a durable, affordable and popular alternative to natural diamonds. They look quite similar to natural diamonds and have the added advantage of being sturdy, making them resistant to chipping, and wear and tear from usage. A bit cheaper and less sturdy versions of diamond imitations include natural zircon, synthetic cubic zirconia, gemstones like topaz, etc. These stones, though attractive and pocket friendly, are prone to chipping and getting damaged easily. Much cheaper options include the ones we call 'fake diamonds', made of glass. These occupy the lower end of the spectrum of diamond imitations for being the least durable with low sparkle.
Why Are Lab Made Diamonds A Cheaper Buy?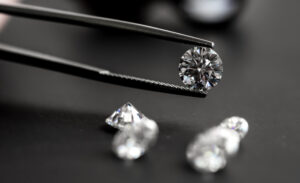 When we say lab made diamonds are cheaper, we mean they are cheaper than natural diamonds – at about 40% or 50% lower in cost when compared to natural diamonds of the same characteristics. The low cost of lab made diamonds is due to the advanced and efficient technologies used in their manufacturing as compared to the costly and time-consuming mining practices used in the extraction of natural diamonds. The cost of lab made diamonds is and will always remain multiple times higher than any diamond imitation because of their superior quality, durability and performance that is comparable only to that of natural diamonds.
Lab made diamonds are stones grown in a laboratory using techniques that are favorable to the formation of good-quality diamonds. Lab made diamonds are exactly what they are- lab made – and they are not cheap alternatives to natural diamonds. Neither are they comparable to diamond imitations in cost, quality or appearance.